Oriental Medicine/Acupuncture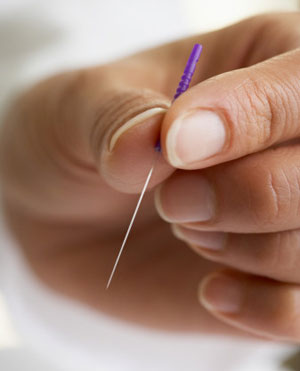 In 1995 the US Food and Drug Administration approved acupuncture as a viable medical treatment option. In 1996, a National Institute of Health expert panel recognized acupuncture as an effective regimen in the treatment of some illnesses.
How Does

Acupuncture

Work?
There are many theories. The traditional Chinese medical theory of acupuncture is based on energy circulating throughout the body along well-defined pathways or meridians. If this energy circulation is disrupted or blocked, function is affected, resulting in pain or increased susceptibility to illness. Acupuncture points along these pathways can be stimulated to restore the balance of energy, which influences the health of the entire being.
Recently, scientists have found naturally occurring, powerful pain relieving substances called endorphins are released during acupuncture. This may be one of several mechanisms by which acupuncture can decrease pain sensations. Acupuncture has also been shown to affect the nervous system locally, at the level of the sine and even in the brain. It also influences, by unknown mechanisms, the immune system and inflammation.
Acupuncture can also be of benefit for a variety of unrelated medical conditions such as fertility, migraine headaches, pre-menstrual syndrome and allergies.
Who Does the Acupuncture?
Dr. Kaiyan Luo OMD LAc (Oriental Medical Doctor and Licensed Acupuncturist) earned his doctorate of Oriental Medicine after five years of training at Guangxi University of Traditional Chinese Medicine in China. He studied under the direct guidance of Dr. Chen Jiwu, a National Treasure of Chinese Medicine. From 1996 to 2001, he was physician at Guilin Hospital of Traditional Chinese Medicine in Guilin China, where he treated a wide range of diseases. He came to the United States in 2001 and has been at ALT-MED for almost a decade
What Can I Expect?
Acupuncture needles are very small and thin. They can be placed in many locations, sometimes at points far away from where the pain may be located. Sometimes small wires are attached to the needles and a tiny electrical current is applied. This may help to accelerate the healing process.
Commonly Treated Conditions
Acute and Chronic Pain
Back/neck pain
Sciatica
Arthritis and joint-related pain
Chemotherapy-related nausea
Bladder problems
Drug addiction/smoking cessation
Fatigue, fibromyalgia
Headache/migraine
High blood pressure
Seasonal allergies and sinus pain
infertility
Is Acupuncture Safe?
Good acupuncturists only use pre-sterilized, one-time-use, stainless steel, disposable needles. This eliminates the possibility of transmitted disease like HIV and hepatitis. In addition, reusable needles become dull with use making acupuncture more uncomfortable. Significant side effects are infrequent…less than taking an aspirin. Rarely, some patients may experience slight bruising at the sites of needle insertion.

Insurance Coverage
Many health insurance policies now cover acupuncture treatment. Check with your insurance company about coverage.
If I had not entered in this back pain program, I told for sure that I would have to have had back surgery for my three herniated disc's. I have talk to a few coworkers... They had back surgery and I cannot believe the shape they're in... Some are never going to be the same. Some had less severe problems than me and are now on permanent disability. I feel the 99.5% back to normal before the accident.
- Richard Tesler
View All Patient Comments