Physical Therapy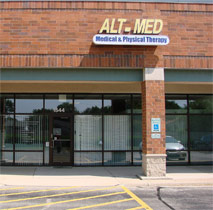 What makes ALT-MED physical therapy different?
It is well known that the body heals through physical movement and the quality of the movement and expertise of the therapist determines how fast some heal.
ALT-MED physical therapy is unique and successful. Our approach is an individualized, movement-based program. The movements are based on martial arts. Martial arts are a rich source of extraordinary physical movements that can be modified for most physical conditions – accelerating healing and function.
For almost two decades, patients have come from around the country to be treated at ALT-MED. Unlike most traditional therapy programs, at ALT-MED, you have our physical therapist's full and undivided attention for your entire therapy. You are not handed off to less qualified physical therapy assistants or athletic trainers.

Daryl Massey PT, MPT is an uncommonly qualified physical therapist. She has a master's degree in physical therapy and is also a 3rd degree black belt. Daryl has published original, clinical research in medical journals as well as devising innovative health programs for corporations. Daryl's clinical approach is unique among physical therapy programs.

What to expect
The first physical therapy visit takes an hour and involves a history and physical exam, range of motion measurements and initial therapy movements. Subsequent therapy sessions are between 30-45 minutes. Movement therapy is comfortable and relaxing. As you progress, it becomes more challenging – but always comfortable…"no pain – no gain" is wrong.
Commonly treated conditions
Acute and chronic back pain
Acute and chronic neck pain
Herniated and buldging discs
Sciatica
Carpal tunnel syndrome
Fibromyalgia
Ankle, knee and hip pain
After experiencing sciatic pain on the left side, I had surgery to solve the problem. Shortly thereafter, I began to have sciatic pain down the other side. I assumed that surgery was necessary again. After beginning the (ALT-MED) program and doing the exercises for a couple of months, the pain was gone. I have been pain free for over six months.
- Joann Hensley
View All Patient Comments