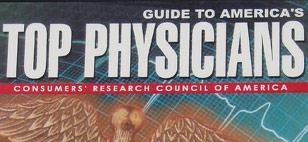 Dr. Massey is considered one of "America's Top Physicians" in Internal Medicine/Integrative Medicine
ALT-MED Medical & Physical Therapy
Why choose ALT-MED?
Education and expertise are important factors when choosing a physician…Dr. Massey is one of only a few physicians board certified in the new medical sub-specialty of Integrative Medicine by the
American Board of Physician Specialties
. That means he is an expert in combining the best aspects of both traditional and non-traditional medicine.
Everyone wants to be healthy. Unfortunately, the current medical model is primarily designed for disease maintenance. Patients today are demanding more and 'integrative medicine' is the answer." (learn more about Patrick Massey MD, PhD...
click here
)
The integrative medicine approach extends beyond the limits of traditional medicine. It incorporates medical therapies, both traditional and nontraditional, that give the best and lasting results. For example, most patients feel that the treatment of chronic pain, fibromylgia, fatigue and thyroid issues often demands more than prescription drugs –and medical research confirms that they would be right!
Integrative medicine uses complementary and alternative therapies such as vitamins, stress reduction techniques, massage, acupuncture, nutrition, specific exercise, dietary supplements and even energy based medical therapies together with medications and traditional medicine therapies. This integrative medical approach can be applied to all medical conditions - promoting health rather than simply disease management.
ALT-MED is a blueprint of what medicine will become – an integration of the best of traditional and nontraditional (complementary and alternative) medicine.
http://www.abpsus.org/
Mission Statement
"In order to enjoy the many benefits of good health and longevity, it is the human condition that needs to be raised to a new level of self-awareness.
We all are composed of a body, mind and spirit…and these are inseparable. All contribute, in some way, to overall health. Just as our actions are instrumental in our illnesses, we are the necessary instruments of our own healing.
We provide the tools and foundation stones needed for sustained health by treating the whole person – physically, mentally and spiritually. We use evidence based medicine to provide the best of all medical therapies, regardless of origin, for the treatment of pain, disease and illness. We realize that treatment without understanding is not freedom and that education, both of the patient and health care provider, is the source of enduring health."
- Patrick B. Massey MS, MD, PhD
Learn more about Dr. Massey
The Alternative Approach: Recent Article Headlines