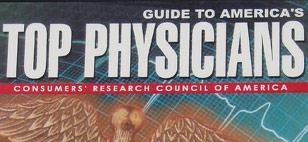 Dr. Massey is considered one of "America's Top Physicians" in Internal Medicine/Integrative Medicine
ALT-MED Medical & Physical Therapy
Why choose ALT-MED?
The practice of medicine is changing and it is the expectations of the patient that is driving this change. Patients are no longer satisfied with suppression of symptoms with prescription medicines or even supplements. In many chronic medical conditions, health is attainable. Patients today are demanding more and 'Integrative Medicine' is the answer."
The Integrative Medicine approach extends beyond the limits of both traditional and non-traditional medicine. It incorporates medical therapies, both traditional and nontraditional, that give the best and lasting results. Many patients intuitively know that the treatment of chronic pain, fibromyalgia, chronic fatigue, thyroid issues and many other medical conditions requires more than prescription drugs –and medical research confirms that they would be right! Once the "root" of the illness is treated, the illness resolves.
Integrative medicine incorporates the use of supplements, stress reduction techniques, massage, nutrition, specific exercise and even energy based medical therapies together with medications and traditional medicine therapies. This integrative medical approach can be applied to all medical conditions – addressing the root of the illness and promoting health rather than simply disease management.
Education and expertise are important factors when choosing a physician…Dr. Massey is one of only a few physicians board certified in the new medical sub-specialty of Integrative Medicine by the
American Board of Physician Specialties
. That means he is an expert in combining the best aspects of both traditional and non-traditional medicine (learn more about Patrick Massey MD, PhD...
click here
).
ALT-MED is a blueprint of what medicine will become – an integration of the best of traditional and nontraditional (complementary and alternative) medicine.

Miracles or I Have No More Boils
by Patrick Massey MD PhD MhD
http://patrickesmasseymiracles.com
A book about the root causes and cures for chronic illness. Simply reducing the physical symptoms of a chronic illness is not enough. People want to be free of disease, to truly be healthy. This only happens when all three components of a human, the body, mind and spirit are healed in conjunction with each other. We all are composed of a body, mind and spirit…and these are inseparable. All contribute, in some way, to overall health. Just as our actions are instrumental in our illnesses, we are the necessary instruments of our own healing.
Dr. Massey's book describes this healing process and is a blueprint for finding your own path to health. In order to enjoy the many benefits of good health and longevity, it is the human condition that needs to be raised to a new level of self-awareness.
"I have re-read it (your book) three times…it is excellent…I totally agree and applaud your emphasis…in dealing with our health…an eye opener to many." Dale Foster MD (Internal Medicine)
"Dr. Massey shares the past, present and future of health care while his keen insight, compassion and sense of humor shine throughout." Kevin Matthews MD (Family Medicine, Hospice and Palliative Care)
"Finally, an approachable (and funny!) book that addresses the whole being. Dr. Massey's perspective is rare and much needed – embodying the truth of whom and what we are as human beings. This is a much needed and long overdue approach to health, healing and wellness." Kara Breese MA, MhD
Available December 2016 at
Amazon
and directly from Dr. Massey (847) 923-0046
Learn more about Dr. Massey
The Alternative Approach: Recent Article Headlines