Insurance FAQs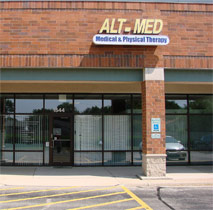 Patrick Massey MD, PhD, ALT-MED Medical and Physical Therapy, Elk Grove Village IL and serving the Chicago area
Does ALT-MED accept my insurance?
---
ALT-MED Medial and Physical Therapy Programs is contracted with the following insurance companies:
Medicare
Blue Cross and Blue Shield of Illinois, PPO
As a courtesy to our patients, ALT-MED may submit claims to most insurance companies even if we are not contracted with them. However, these claims will be processed as "Out of Network." Your out of network benefits are usually different from your "in network" benefits. Please contact your insurance company to determine your benefits.
Claims will be submitted to the PRIMARY insurance company only. Submission of claims to the secondary insurance is the responsibility of the patient. The best place to get information about submitting your claims to your secondary insurance, is you secondary insurance company. But if you need additional assistance, please contact the office and we will be happy to assist you.
ALT-MED has several policies in place to assist with the submission of claims and the payment for services rendered. Please contact the office for more specific information on these policies.
**Please note: Motor vehicle accidents and claims that are in litigation will require payment at the time of service.
Why do you need my credit card on file?
---
Medicine is a wonderful profession; However, it is also a business with ever increasing costs and constantly diminishing reimbursements. Small medical practices, like ALT-MED Medical and Physical Therapy, need to be very efficient in order to stay open.
Insurance rarely pays 100% for all medical costs. After insurance has paid its portion of the medical services, there may be an amount that is the responsibility of the patient – deductibles, co-pays and services not covered. This is the patient's responsibility and timely payment is expected. Therefore, a credit on file is required.
At the end of the month, the credit card on file is billed for any outstanding balance. If patients do not want the credit card charged, they can pay the balance in person before the end of the month.
We do not call before charging the credit card
We do not send bills for the balance of the account
We do not have payment plans
If a patient does not want to have a credit card on file, then the full cost of medical services are due at the time of the visit and the patient is reimbursed, in a timely manner, after we receive the insurance payment
What Are ALT-MED Medical and Physical Therapy Basic Costs
---
All cost are subject to change without notice
Dr. Massey
| | |
| --- | --- |
| Initial Office Visit (50-60 minutes) | $300 |
| Follow Up Office Visit (about 20 minutes) | $100 |
| Extended Follow Up Office Visits (longer than 20 minutes) | varies |
Physical Therapy
| | |
| --- | --- |
| Initial Evaluation | $225 |
| Usual Therapy Session (30 - 45 minutes) | $155 |
| Extended Physical Therapy Sessions | Varies |
Massage Therapy
| | |
| --- | --- |
| 45 minutes | $75 |
| Infra-red / amethyst bed before massage - 10 minutes | $10 |
| Infra-red / amethyst bed 20 minutes (no massage) | $20 |
2 different chiropractors and the sports medicine physician with physical therapy did not provide relief from constant back pain. After the sessions with Dr. Massey, there was, as he promised, major improvement and I put away the cane I was using. The program works!
- Joseph Flores
View All Patient Comments